R1 inflatable canopy tent range
Ideal for sports and cultural events, the R1 inflatable canopy tent optimises your visibility as it offers a large printing area. High quality sublimation printing and its innovative modern design can help you boost your brand image.
The R1 inflatable gazebo is quick and easy to put up with no need for any tools. Its aerodynamic shape is designed to resist the weather and adapt to uneven ground.
This model is ideal if you are looking for a promotional or events tent for your sports, cultural or commercial events, or a customised canopy tent for relief activities.
Opt for a quality professional inflatable gazebo from VITABRI!
R1 infatable gazebo: a rugged design
Discover the technical characteristics of our inflatable canopy tent. We can rely on the 10-plus years of experience of our partner for the membrane part. The covering is made and the printing done in our factory in BESANCON. Available in 3 sizes: 3 x 3 m, 4 x 4 m, 5 x 5 m.
The R1 inflatable gazebo uses a very high quality engineered textile that is flame-retardant, 100% waterproof and UV-resistant.
It takes 5 minutes to inflate.
The R1 inflatable structure ensures optimum use without needing constant connection to the pump. Each leg is pumped up separately and the inner membrane maintains a constant pressure.
The Airtight-technology polyurethane inner tube does not require a constant air supply to maintain the ideal pressure. Once inflated, the air is perfectly held inside.
The structure is reinforced in the top part to ensure your reception tent is entirely stable.
The Dacron outer tube has good abrasion resistance and is made of low-absorbency fibre, allowing it to dry more quickly.
There is a valve in each leg of the structure which can be used with a manual or electric pump.
A pressure relief valve allows you to release excess air to reach the optimum pressure.
A tie-down system allows you to secure the canopy tent in strong winds.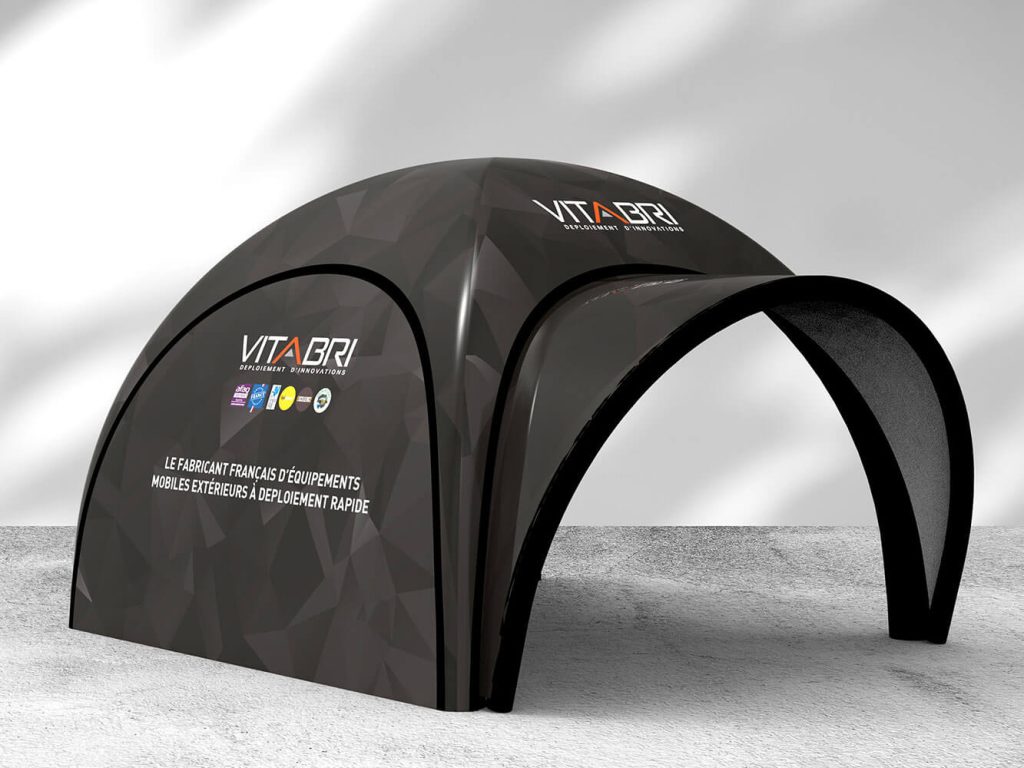 | Dimensions | Height under valence | Roofing height |
| --- | --- | --- |
| 3 x 3 | 1,95 m | 2,50 m |
| 4 x 4 | 2,10 m | 2,70 m |
| 5 x 5 | 2,50 m | 3,30 m |