V2: top-of-the-range professional popup gazebo
Packed with innovative technologies, the V2 range is renowned for its rugged construction and good looks.
Its patented gas spring-assisted opening system ensures it can be opened easily and smoothly by anyone. The astonishingly simple system requires just two people, who can assemble the gazebo in seconds, without any tools, even the very large models.
The ideal gazebo for intensive professional use
Available in several sizes (3 x 3, 4 x 6, 5 x 5, 3 x 4.5), this range is ideal for intensive, semi-permanent or permanent professional use. It allows you to cover a space of up to 25 m² in just a few seconds.
The V2 gazebo is fitted with casters for easy movement over any kind of ground.
Choose this folding gazebo made in France for your events and professional uses: local authorities, sports teams, restaurants, armed forces, itinerant traders, etc.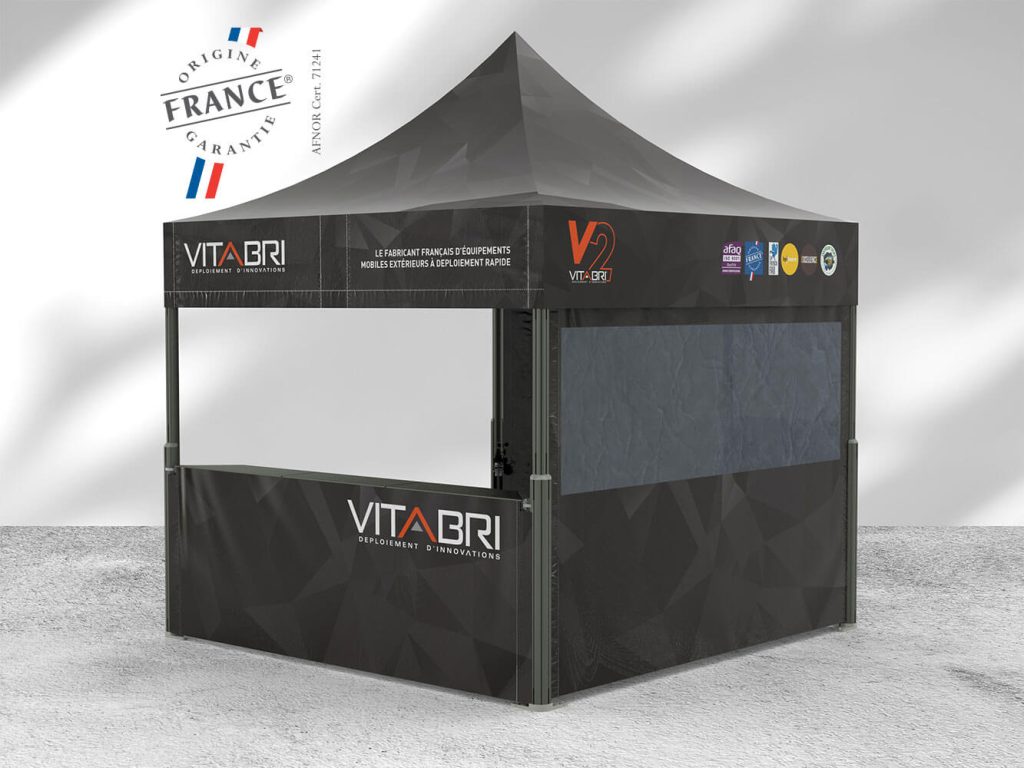 Packed with innovations
This range of popup gazebos features a unique concept that took over 3 years of research and development.
When designing it, our R&D department paid particular attention to ease of assembly, aesthetics and robustness to ensure safe use.
| Dimensions | Opened dimensions (m) | Folded dimensions (m) | Weight (kg) with PVC 500 roof | Height under valence | Roofing height | Top foot diameter (mm) | Diameter of the bottom foot (mm) |
| --- | --- | --- | --- | --- | --- | --- | --- |
| 3 X 3 | 3,125 x 3,125 | 0,50 x 0,50 x 1,75 | 81,8 | 2,06 m | 3,61 m | 83 | 108 |
| 3 X 4,50 | 3,125 x 4,600 | 0,60 x 0,60 x 1,75 | 92,4 | 2,06 m | 3,72 m | 83 | 108 |
| 4 X 6 | 4,000 x 5,920 | 0,65 x 0,75 x 2,25 | 115 | 2,47 m | 4,40 m | 83 | 108 |
| 5 X 5 | 5,000 x 5,000 | 0,60 x 0,60 x 2 | 121 | 2,245 m | 4,28 m | 83 | 108 |
| 5 X 5 garden | 5,000 x 5,000 | 0,80 x 0,80 x 2,67 | 129 | 2,47 m | 5,17 m | 83 | 108 |
Technical characteristics of the v2 popup gazebo
Sliding carriages mounted on PTFE sliders and (patented) blocking catch: effortless locking in place
EAV system (gas spring-assisted elevating system)
Reinforced injection-moulded aluminium connectors
Truss bars: 6 internal reinforcements and reinforcement plates
Cast aluminium base plate with removable caster
Guy rope rings
Weight and dimensions
Dimensions: 3 x 3 m, 4 x 6 m, 5 x 5 m, 3 x 4.5 m
Aluminium section legs, Ø 108 mm and Ø 83 mm, 2 mm thick
Size when closed: 0.5 m²
Weight: 81 to 129 kg depending on the model