V5 popup gazebo: rugged construction, light weight and good looks
Featuring all the best technical characteristics of the V2 and V3 ranges, the V5 folding gazebo is a rugged, innovative and attractive canopy tent designed for professional use.
This range guarantees fast, smooth assembly thanks to its patented gas spring opening system.
Very simple to use, the V5 gazebo can be put up in seconds, no tools required. Fitted with casters, it is easy to move.
Packed with the best VITABRI technical features
The fruit of 25 years of experience, the V5 range created by our engineers is at once innovative, easy to handle and tough.
Available in 3 sizes, from 9 to 16 m², the V5 popup gazebo combines the best technologies from other professional ranges and boasts an excellent weight-to-resistance ratio: it's perfect for all your ephemeral and semi-permanent uses.
The V5 gazebo is recommended in particular if you need a gazebo for a restaurant terrace, an events tent you can re-use for years, if you are an itinerant trader, if you take part in cycle, motorbike or motor sports events.
Opt for a professional gazebo designed and made in France.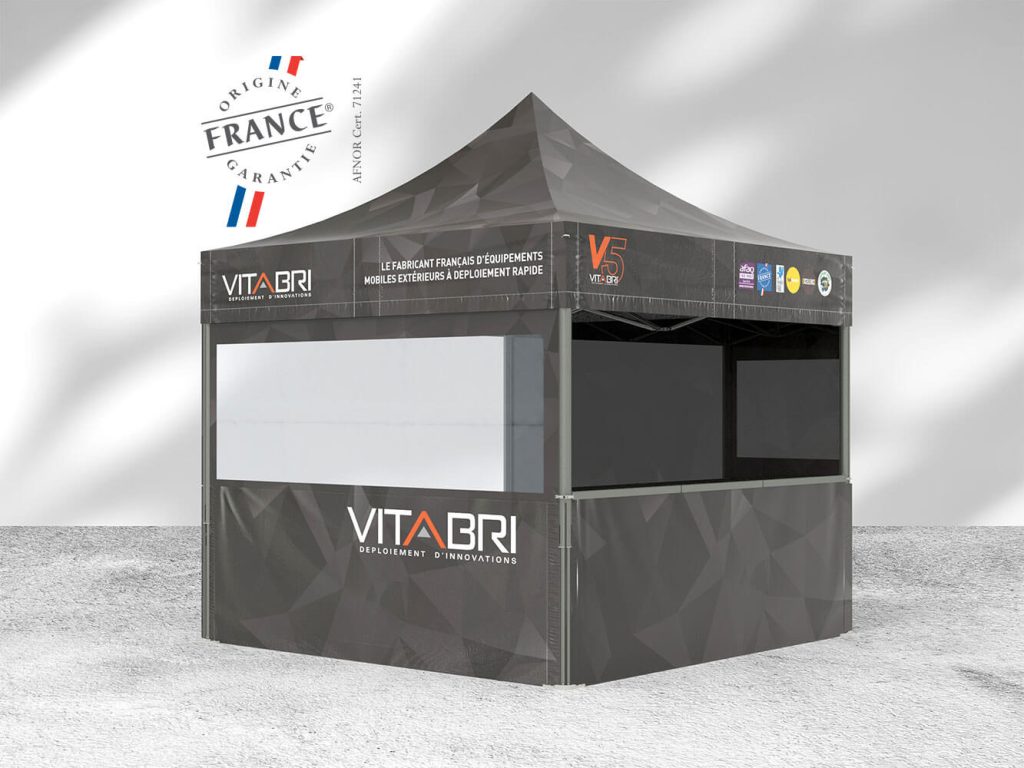 | Dimensions | Opened dimensions (m) | Folded dimensions (m) | Weight (kg) with PVC 500 roof | Height under valence | Roofing height | Top foot diameter (mm) | Diameter of the bottom foot (mm) |
| --- | --- | --- | --- | --- | --- | --- | --- |
| 3 X 3 | 3,000 x 3,000 | 0,50 x 0,50 x 1,85 | 60,1 | 2,03 / 2,12 m | From 3,55 to 3,64 m | 72 | 66 |
| 3 X 4,50 | 3,000 x 4,400 | 0,5 x 0,60 x 1,85 | 86,1 | 2,03 / 2,12 m | From 3,55 to 3,64 m | 72 | 66 |
| 4 X 4 | 4,000 x 4,000 | 0,5 x 0,5 x 2,15 | 78 | 2,03 / 2,175 / 2,47 m | From 4,02 to 4,46 m | 72 | 66 |
Technical characteristics of the top-of-the-range v5 gazebo
Sliding carriages mounted on PTFE sliders and (patented) blocking catch: effortless locking in place
EAV system (gas spring-assisted elevating system)
2 adjustable height settings (3 for the 4 x 4 m V5).
Reinforced injection-moulded aluminium connectors
Truss bars: 6 internal reinforcements and reinforcement plates
Cast aluminium base plate with removable caster
Guy rope rings
Weight and dimensions
Available in sizes 3 x 3 m, 4 x 4 m, 3.4 x 5 m
Aluminium section legs, Ø 72 mm and Ø 66mm, 2 mm thick
Size when closed: 0.5 m²
Weight: 60 to 86 kg depending on the model